Welcome to The Long Island Dahlia Society's Website!

News and Upcoming Events
Year Round
2015 Saturday Mornings at the William Wolkoff Garden
Each Saturday during the dahlia season (typically late March to November, unless otherwise notified) our volunteers meet at 9:00 AM at the William Wolkoff Dahlia Garden in Bayard Cutting Arboretum.
Under the leadership of the Garden Director Joe Lysik, our volunteers support the garden by preparing the tubers for planting, maintaining the garden during the bloom times, through the digging up the tubers at the end of season, this is a hands-on learning experience, all are welcome.
Work in the garden is followed by coffee and cake at 11:00 am.
---
Monthly Meetings
Dahlias through the Seasons
---
Bayard Cutting Horticultural Society Plant Sale
Saturday and Sunday, June 6-7, 10:00 - 4:00
Bayard Cutting Arboretum, Lower Carriage House
Dahlia plants will be available
The BCAHS will have hundreds of varieties of rare perennials and specialty plants available to purchase. Experts will be onsite to help with plant selection and to answer questions. While you're there, take the opportunity to stroll the gardens of the grounds and get ideas to apply to your home garden. Profits from this event help support the Arboretum.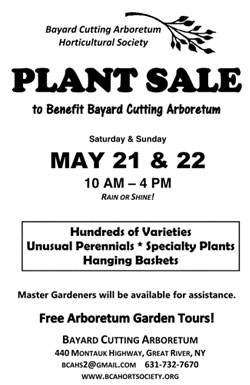 ---
General Membership Meeting and Tuber & Plant BLOWOUT!
Saturday, June 13, 12:00 PM
No Dahlia 101
LIDS will host this meeting outside in the Wolkoff Garden (weather permitting). There will be hands on lessons in dahlia care, you will be able to "ask the experts" any questions you have about dahlias, and tubers and dahlia plants will be available.