News and Upcoming Events
Special Event - Mock Show -
RESCHEDULED
Saturday, September 12th Starting at 11:30 a.m.
Designed for the Novice Grower - Starting at 11:30 a.m. in the Wolkoff Garden.
This very special education event will feature a Mock Dahlia Show.
Bring your dahlias, all forms and sizes.
Learn how to transport, setup and present your dahlias
See what the judges look for.
Show off your blooms!
Ask questions!
The welcome mat is out for novice dahlia growers! Win ribbons! This year is a once in a lifetime opportunity to compete at the American Dahlia Society's Centennial Show which is being held in September right here on Long Island.
LIDS experts are here to teach you the basics and finer points of the setup and presentation of dahlias for competition. You will be confident and ready to show off your dahlias in the LIDS and American Dahlia Society's Centennial shows.
---
Year Round
2015 Saturday Mornings at the William Wolkoff Garden
Each Saturday during the dahlia season (typically late March to November, unless otherwise notified) our volunteers meet at 9:00 AM at the William Wolkoff Dahlia Garden in Bayard Cutting Arboretum.
Under the leadership of the Garden Director Joe Lysik, our volunteers support the garden by preparing the tubers for planting, maintaining the garden during the bloom times, through the digging up the tubers at the end of season, this is a hands-on learning experience, all are welcome.
Work in the garden is followed by coffee and cake at 11:00 am.
---
Long Island Dahlia Society - 2015 Photography Contest Rules
"Dahlias Through the Camera's Lens"
The registration package has been posted and is available for download.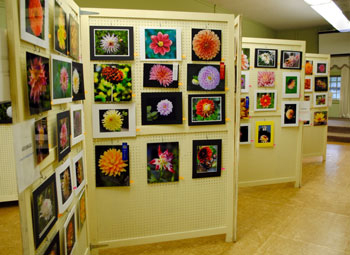 Please note the change in dates.
Our Photo Contest will be held during our first show, over Labor Day Weekend
Download Photo Show Brochure in
PDF or
Word
---
2015 Dahlia Shows
September 5th and 6th, 2015
Fall Show - October 10th and 11th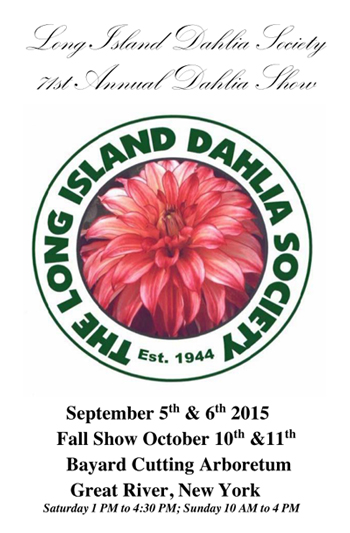 ---
Monthly Meetings and Events
Dahlias through the Seasons
View or Download the 2015 LIDS Calendar of Events