Events
Long Island Dahlia Society Shows & Photo Competition
Held at Bayard Cutting Arboretum, Great River, NY
See the Bayard Cutting Arboretum website for directions and parking
Saturday & Sunday - Columbus Day Weekend, October 8 & 9, 2016
Dahlia Show - Lower Carriage House
Open to the public Saturday at 1:00 PM - 4:00 PM and Sunday 10:00 AM - 4:00 PM
Entering the Dahlia Competition? Download the Court of Honor and Rules package
What to expect
The Long Island Dahlia Society is hosting two dahlia competitions and awards prizes and ribbons to the very best dahlias. Dahlias growers come from all parts of the east coast to compete and display their flowers. You will see hundreds of dahlias in a wide variety of forms, sizes, and colors. The show is located in the Carriage House which is a short walk through a from the main Arboretum parking lot and winds through the beautiful pathways of the Arboretum.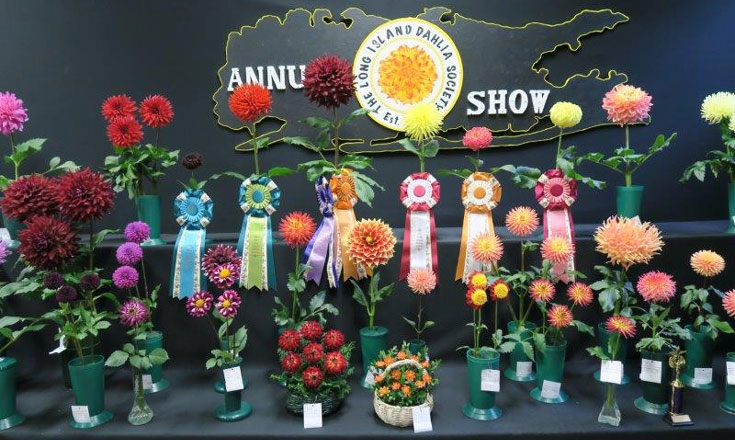 Want to see even more dahlias?
The William Wolkoff Garden (shown in the photo at the top of the page and located on the grounds of the Arboretum) is maintained by LIDS volunteers and features over 1,000 dahlias. It is a beautiful garden with lovely covered benches to sit and enjoy the views. You will see many photographers and artists capturing the beauty of the dahlias. The colors deepen as fall approaches and the dahlias will bloom until frost Look for the hummingbirds who feed at the trumpet vines and a wide variety of butterflies visiting the dahlia blooms. Follow the signs to the Wolkoff Garden.
Interested in growing your own dahlias?
LIDS can help! We are an all volunteer organization which promotes the love and cultivation of dahlias. Our monthly meetings are open to the public and we discuss dahlia care through the seasons. We can show you what a dahlia tuber is, how to plant and care for dahlias, and even how to show your dahlias at a competition. While you are visiting the Arboretum, please reach out to any LIDS volunteer for more information or to answer your questions.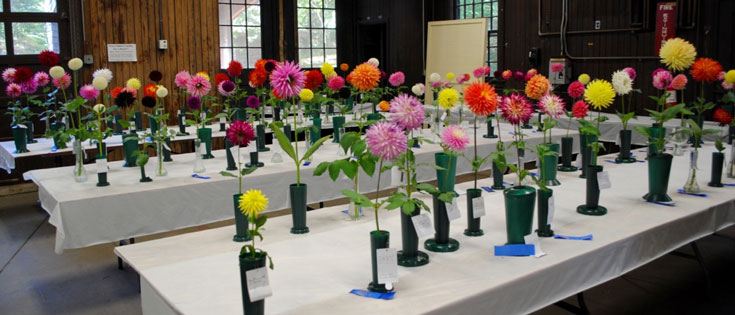 ---
Upcoming Events
October 20, 2016
Membership Meeting East Islip Library
6:30 PM
Dahlia 101 "Digging up Tubers
November 17, 2016
Membership Meeting East Islip Library
6:30 PM
Dahlia 101 "Storing Dahlias Over the Winter"
Sign-up sheet for Holiday Party
Saturday, November 26, 2016
Wolkoff Garden Work Detail Cancelled
Happy Thanksgiving!
For the month of December
The Garden Director will advise this month if help is needed in the Barn. Check back for further details
December 15, 2016
Holiday Party
Bayard Cutting Arboretum, Upper Carriage House
Pot Luck Dinner and Grab Bag
---
Year Round
Saturday Mornings at the William Wolkoff Garden
Each Saturday during the dahlia season (typically late March to November, unless otherwise notified) our volunteers meet at 9:00 AM at the William Wolkoff Dahlia Garden in Bayard Cutting Arboretum.
Under the leadership of the Garden Director Joe Lysik, our volunteers support the garden by preparing the tubers for planting, maintaining the garden during the bloom times, through the digging up the tubers at the end of season, this is a hands-on learning experience, all are welcome.
Work in the garden is followed by coffee and cake at 11:00 am.
See the 2016 Calendar for year round dahlia events
---